The Community
The Lady Prioress
The prioress Charlotte Carton (17th century)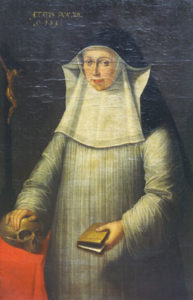 The religious community is headed by a Mother Superior who manages the daily activities and organises all the life at the hospital. She determines the roles of each Sister, meets the families of the sick, deals with economy and the finances.
Charlotte Carton was Prioress from 1681 until her death in 1690. She was then 68 years of age. We are very lucky to show you these valuable collections in their historical place. In fact, many of the objects belonged to members of the religious order who lived here. Consequently, later in the visit, we can admire the reliquary arm of Saint Marguerite, presented to the institution by Sister Charlotte Carton in 1639. In our archives, we also have a prayer book kept by Sister Charlotte Carton between 1683 and 1690. Finally, we can see her headstone in the garden.
The Master
Portrait of a priest, 17th century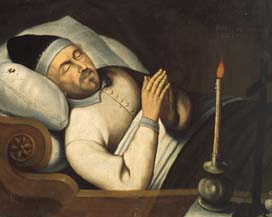 One of the three priests was elected 'master' by the chapter of canonesses, but he did not have absolute authority. He needed the agreement of the prioress for temporal matters, and he was also answerable to the archbischop op Cambrai.
The priests were entrusted with the spiritual leadership of the community, but also with a number of administrative duties.
The canonesses
The community of nuns at the hospital at the beginning of the century, under the priorate of Marie-Rose Carouy
The Sisters of Notre-Dame Hospital Lessines were either from nobility or families of wealthy landowners or civil servants. Their social background explains the wealth of the house since the young nuns brought a dowry when they entered the community. It was moreover not uncommon for parents or family to make donations of various kinds: money, land, annuities, chaplaincies, but also works of art, furniture, … The nuns were sometimes related.
The work assigned to the nuns was: portress, pharmacist, sacristan, farm manager or manager of the brewery, cook, nurse… During their free time, they cleaned the linen, spun wool, were sewing and sometimes … they followed the course of music.
The number of nuns from the foundation to the end of the Ancien Regime, was limited from 7 to 18 nuns (number limit set in the fifteenth century). Subsequently, it sometimes rose to 26 (in 1852).
Note that in December 1881, following clashes between religious and civil authority, the Prioress Alix DUMONT and the Abbot BATAILLE, spiritual director, left Lessines to create a new hospital in Jolimont, the Servants of Mary, who still occupy the Hospital of Jolimont nowadays. The community of Lessines finally merged with this subsidiary in 1958.
The Prioress Marie-Rose Carouy surrounded by nuns of the Hospital (early 20th century)
You can easily recognize the habit Augustinian nuns wore at Lessines. In the center, the Prioress Sister Mary Rose Carouy is wearing a white ceremonial dress.
This photography was taken in the garden of the hospital.