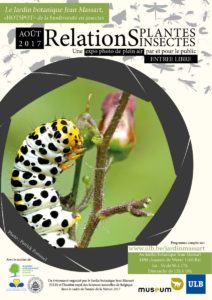 The gardens of the Hospital Notre-Dame à la Rose welcome the exhibition "Relations Insect-Plant " of the Botanical Garden Jean Massart .
The photographs exposed through the garden of the Hospital Notre-Dame à la Rose are the work of a dozen photographers (amateur or not) who crossed the Garden Jean Massart for several years. Each photo will be accompanied by a comment on the plant-insect relationship.
The Massart Garden is a real hotspot of biodiversity ! It offers shelter to hundreds of insects at the gates of Brussels. To celebrate this discovery, the Université Libre de Bruxelles and the Royal Institute of Natural Sciences have joined forces in 2017 to create this exhibition. It is with pleasure that we present it to you in the gardens of the Hospital of Lessines.